New exemplary concepts based on a continuous textile research for responsible, ethical-minded fashions in the best spirit of its unique Portuguese culture.
The new S/S 2020 collection starts from the concept of "UNO": a full Naturally Advanced offer that is gathered together under one emblematic cultural standard, one that refers to unity as a result of the revolutionary generation in a society that embraces uniqueness and differentiation. UNO stands for unification, cross-fertilization, inclusion, just like an orchestra playing in concert with the same purpose. It is the perfect chance to discover a range of unique developments that truly embody the company's identity, balancing responsible innovation and creativity. Smart ingredients take the lead being enhanced by the TINTEX unique dyeing and finishing expertise.
Starting from the "UNO is…embrace yourself" concept, a unique range of natural fibres are blended with technical qualities for new levels of wellbeing performance. Shirt structures, timeless jerseys and interlocks are born from the transformed polyamide Q-NOVA® by Fulgar with excellent moisture control, and from SeaCell™, that embodies the unique properties of seaweed combined with the unique ROICA™ CF (Clean Fit), a unique odor neutralizing premium stretch yarn by Asahi Kasei.
And continuing with idea that "UNO is…starting a revolution", where  the main characters are GOTS (Global Organic Textile Standard) certified organic cotton fabrics  and ECOTEC® by Marchi&Fildi yarns saving up to 77.9% in water consumption in comparison to conventional cotton*. And more stretch performance is brought to the next level with GRS (Global Recycled Standard) certified ROICA™ EF responsible stretch yarn.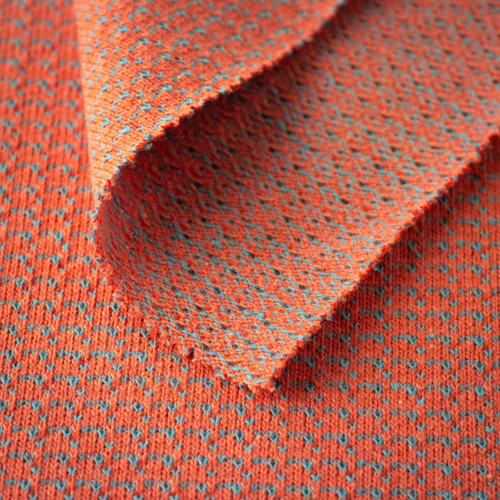 Jersey by TINTEX Textiles made with GRS certified ECOTEC® and GRS certified ROICA™ EF premium smart stretch
Experiencing the "UNO is…working together" selection, you will be able to discover the value of a positive group revolution. TENCEL™ Lyocell, together with REFIBRA™ by Lenzing and advanced Newlife™ continuous filaments, deliver a feeling of comfort and softness.  In terms of the stretch component, the choice is ROICA™ V550, a premium stretch boasting the Cradle to Cradle Certified™ Gold Level for Material Health product and ingredients and the Hohenstein Environment Compatibility Certificate as, at its end of life, it breaks down without releasing harmful substances.
To conclude our journey of unification, we proudly present "UNO is…living the dream" where preciousness embraces you, with a delicate and feminine structure born from extra fine cashmeres and Supima cottons. Unique style and colour performances are achieved thanks to Bemberg™ by Asahi Kasei, a new generation GRS Certified, high-tech natural and super-precious material made from recovered cotton linters. Bemberg™ boasts a biodegradability certification by Innovhub and is mixed with ROICA Colour Perfect™, a premium stretch ingredient that delivers deep and flawless colors.
UNO is designed uniquely to fit all daily lives needs. A creative, relaxed and sophisticated offer built on the principles of responsible sourcing, low-impact processing and creative execution.