by MÁRIO JORGE, RICARDO AND PEDRO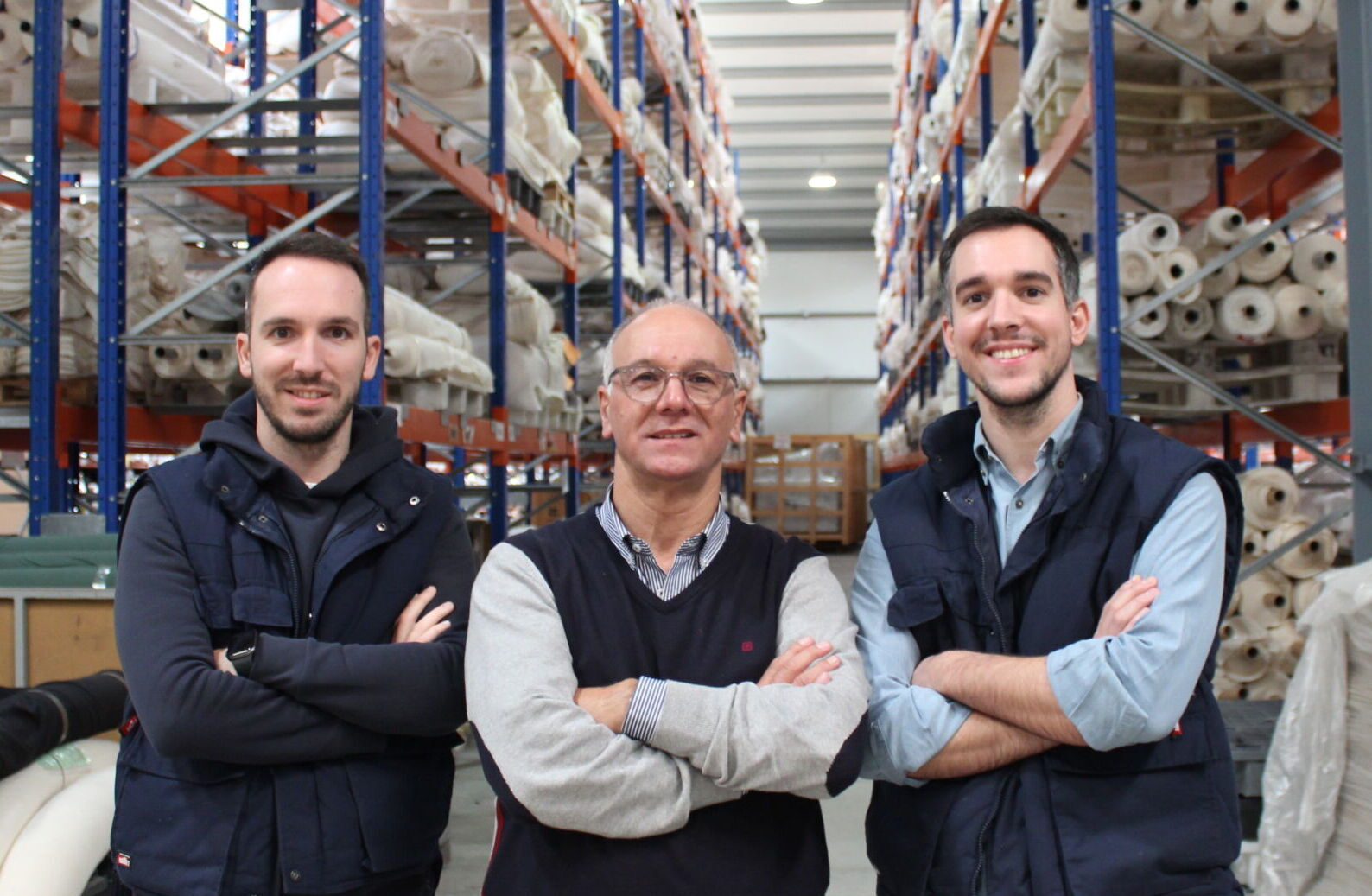 Ricardo, Mário Jorge and Pedro, from TINTEX Executive Board
Looking back, we must admit that the past year left us with contrasting feelings of grief and distress – even exhaustion – on the one hand, and fulfilment, excitement and optimism on the other.
We had great expectations for 2022: it could be the year the harsh consequences of the COVID-19 pandemic would finally regress and normality entered our lives again; after two long years, people would feel safe, goods would flow steadily and easily around the globe, prices would stabilize across all sectors, and everyone could live a bit more relaxed than before… until everyone quickly realized we had yet another difficult road ahead.
The war in Ukraine – on top of the direct suffering it brought to millions of people – heavily disrupted supply chains, causing not only shortages of critical materials and components, but also energy prices to skyrocket. TINTEX, a gas & electricity-intensive company, was severely disturbed in its operation and finances.
The future already looked dire in the first few months of the year – for us and for thousands of companies like ours –, but we also faced the difficult situation as an opportunity for improvement, to upgrade our infrastructure and to implement more efficient, sustainable processes. Very quickly, we were able to substitute more than two thirds of our natural gas consumption for renewable sources and to create a semi-closed loop in our thermal flux, increasing the overall efficiency of our processes, while greatly reducing their carbon footprint – investments which for long had been in the pipeline, although with much shorter payback periods in this new scenario.
Last year, we saw a shift in mentality and outlook from the whole community; there was a palpable eagerness in the air to reconnect, engage and interact. We were also, and are thankful for all the new relationships we created and reinforced throughout 2022 with dynamic, innovative, daring players in the sector. We feel certain that these will flourish and become key partnerships for TINTEX and in the Textile Sector as a whole.
For this new year, we wish to be able to continue our path of improvement, as an Organization and as individuals; to work hard and to defend the values we believe in, and to support those who share our vision; to commit ourselves for a better World, day after day; to leave our mark in whatever we do and empower others to do the same.
We will always maintain our focus on creating high-quality, responsibly produced fabrics, and to serve our clients the way we know best: with full transparency, respect and kindness.
In 2023, TINTEX celebrates its 25th anniversary – already a mature, young adult with a bright and long future ahead. We want to remember this date and the team that helped reach this symbolic, but important milestone: all 140 people working everyday to make this company a national and global reference in Textiles. We will commemorate fully throughout this year and invite everyone to join us in the festivities.
Lastly, we wish all the recipients of this message Love, Health, Happiness and Success for 2023, surrounded by family, friends and colleagues.
Warm Regards,
Mário Jorge, Ricardo and Pedro
 VERSÃO EM PORTUGUÊS: POR MÁRIO JORGE, RICARDO E PEDRO
Em retrospetiva, devemos admitir que o ano passado nos deixou com sentimentos contrastantes de tristeza e angústia – até exaustão – por um lado, e realização, entusiasmo e otimismo por outro.
Tínhamos grandes expectativas para 2022: poderia ser o ano em que as duras consequências da pandemia de COVID-19 finalmente regredissem e a normalidade voltasse a entrar nas nossas vidas; depois de dois longos anos, as pessoas sentir-se-iam seguras, as mercadorias fluiriam de forma contínua e naturalmente por todo o mundo, os preços estabilizar-se-iam de forma transversal a todos os setores e poderíamos viver um pouco mais relaxados do que antes… até que rapidamente percebemos que tínhamos mais um caminho difícil pela frente.
A guerra na Ucrânia – além do sofrimento direto que trouxe a milhões de pessoas – impactou fortemente as cadeias de fornecimento, causando não apenas escassez de materiais e componentes críticos, mas também fez disparar os preços da energia. A TINTEX, uma empresa intensiva em gás e eletricidade, sofreu graves perturbações nas suas operações e finanças.
O futuro parecia sombrio logo nos primeiros meses do ano – para nós e para milhares de empresas como a nossa –, mas também encarámos a difícil situação como uma oportunidade de melhoria, para atualizar a nossa infraestrutura e implementar processos mais eficientes e sustentáveis. Muito rapidamente, conseguimos substituir mais de dois terços do nosso consumo de gás natural por fontes renováveis e criar um circuito semi-fechado no nosso fluxo térmico, aumentando a eficiência global dos nossos processos, enquanto reduzimos consideravelmente as suas pegadas de carbono – investimentos que há muito estavam na calha, embora com prazos de retorno bem mais curtos neste novo cenário.
No ano passado, vimos uma mudança de mentalidade e perspetiva em toda a comunidade; havia uma ânsia palpável no ar para reconectar, envolver e interagir. Também nós o sentimos e estamos gratos por todas as novas relações que criámos e reforçámos ao longo de 2022 com players dinâmicos, inovadores e ousados do setor. Temos a certeza que estas irão florescer e tornar-se-ão parcerias fundamentais para a TINTEX e para o Setor Têxtil no seu todo.
Para este novo ano, desejamos poder continuar o nosso caminho de melhoria, como Organização e como indivíduos; trabalhar arduamente e defender os valores em que acreditamos, e apoiar aqueles que partilham a nossa visão; comprometermo-nos por um Mundo melhor, dia após dia; deixar a nossa marca em tudo o que fazemos e capacitar outros a fazerem o mesmo.
Manteremos sempre o foco em criar malhas de alta qualidade, produzidas responsavelmente, e servir os nossos clientes da maneira que melhor sabemos: com total transparência, respeito e amabilidade.
Em 2023, a TINTEX celebra o seu 25º aniversário – já uma jovem adulta, madura e com um futuro brilhante e longo pela frente. Queremos recordar esta data e a equipa que ajudou a atingir este marco simbólico, mas importante: todas as 140 pessoas que trabalham todos os dias para tornar esta empresa numa referência nacional e mundial na Têxtil. Comemoraremos plenamente ao longo do ano e convidamos todos a juntarem-se a nós nas festividades.
Por fim, desejamos a todos os destinatários desta mensagem Amor, Saúde, Felicidade e Sucesso para 2023, rodeados de familiares, amigos e colegas.
Cumprimentos calorosos,
Mário Jorge, Ricardo e Pedro.